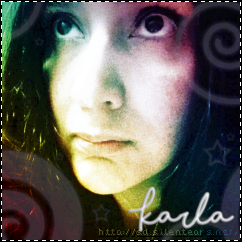 I am a 39 year old residing in good ol' sunny California. I graduated high school a year late, due to some personal issuses, back in 1996. Oh wow, that makes me feel so darn OLD ha ha! I enjoy working on website stuff, making graphics for my website and browsing the web for ideas and resources. I am not a "professional" at what I do but I sure have fun doing it!

I am a "Halloween Child", which makes me a Scorpio and I do have the characteristics heh heh! I pretty much stay up ALL night and early morning. Doing what? Well, website stuff of coarse. I am right-handed but wish I was a "lefty". I do, however, know how to write from right to left (you would need a mirror to read what I wrote). Though, it has been years since I've actually done so. Would be a little rusty now ha ha!

I am a vegetarian but working on up to being vegan. It is hard to do so though because my family are meat eaters and vegan products can be pricey! I love all animals. My eyes "opened" to the reality of what animals go through because of my fur-niece, Carrie. She came into our lives in May of 2012. She is an American Pit Bull Terrier or APBT for short. Now I know MANY of you may not like the "bully breed" and perhaps have been blinded by all the negativity that you see and read in all media. But for those that love this breed, you know what sweet pooches they are and can be! And this girl, she is my ♥

I have long hair that is past my bum (would have been a lot longer if my mom hadn't CHOPPED OFF a chunk back in 1994 or so); 3 piercings on each ear; 3 tattoos; and a collection of clowns, elephants, owls and X-Men comics. I don't collect any of the mentioned anymore since my new passion is doggies! All of my family know that I am a "crazy dog person". So for birthdays and Christmas, they know what to gift me ha ha!

I speak both spanish and english. I know some words, phrases and some alphabet in korean; some words and phrases in japanese; some words in chinese (mandarin), italian and french. I have also learned some ASL (american sign language) but since I did not practice it enough, I pretty much forgot a lot. I wish I was fluent in all these languages. How did I learn this stuff? Well, by watching language programs and dramas on television.
Want to know more about me? Then read below to find out what my favs and hates are.


Fav Food & Drink: pasta . tamales . honey dew . fruit punch . peach & raspberry iced teas . water . candy . pocky & other little goodies ♥

Fav Shows & Toons The Three Stooges . The X-Files . The Nanny . Trick (series 1-3). Reno 911 . Tenchi Muyo . Teen Titans (not Teen Titans Go!) . Super Friends . The X-Men . DB & DBZ . Japanese & Korean Dramas . Spongebob Squarepants . The Wiggles . South Park . Malcom in the Middle . Seinfeld . Fraiser . Friends . Lizzie Maguire . Sister Sister . Clarissa Explains It All . Even Stevens & more (I know I've listed OLD stuff ha ha!)

Fav Movies: kung fu! . Rocky (all of them) . My Neighbor Totoro . Princess Mononoke . Carrie . Silent Hill . The Exorcist . The Wall . Napoleon Dynamite . Pippi Longstocking!

Fav Music: classic rock . heavy metal . 80's flashback . old school freestyle . oldies . trip hop . underground hip hop . trance . deep house . techno . k-pop (Korean) . opera . classical . cumbia . big band . dixieland & other good stuff

Loves: Her Chief ♥ . Carrie ♥ (APBT) . doggies (all breeds!) . all the colors of the rainbow, in between & beyond ™ (but my most fav colors are aqua, teal and turquoise)

Hates: teenage pregnancy . young girls dressing provocative . girls that wear way too much make-up . badwords . drinkers . SMOKERS . loud people . show offs . reality shows . remakes of cartoons (ie. the chipmunks, smurfs) . dial up internet! . websites with quantity over quality mentality! . BSL! . ANIMAL ABUSE & NEGLECT!

Owns/Co-Owns:
(c) Silent Devotion 2OO4-bey0nd