Here is some pixel art I have made either from my own imagination, inspiration from an image (not to infringe of coarse!) and/or from a tutorial. Links are provided where possible.
Please do not take or steal any of my creations displayed (image itself or direct link).


No requests taken for any of these creations.

They are here just for your viewing pleasure.
Doodle Chicken
Tutorial by: SPSPT
Feb. 2nd, 2O16
I am so glad to have found this forum. Although it is inactive now, guests (non members) are still able to access its pages. The tutorial was fun! I like how this chicken guy turned out!



Teddy Head
Tutorial by: Pixel Blossoms
Feb. 2nd, 2O16
Another great forum with tutorials! It is also owned by SPSPT. I did a little touch up on mine by adding the little fuzzies around the head and eliminated 1px from the right eye.



Pippo, Kerroppi, Pompompurrin & Hello Kitty
Inspired by blinkies
Aug. 15, 2O15
They are so cute!






Gothic Lolita
Base & tutorial by: Swiss Cheese Army
Oct. 24, 2OO7
This lolita is one of my favorites! I did three versions of this doll. Even created my own little spider for her!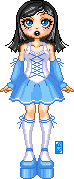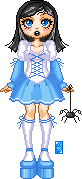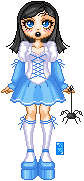 Pixel Bear
Tutorial by: JalJaxDesigns
(no date info)
Totally cute teddy bear and tutorial! Had fun trying this one.



Various
Tutorials by: PSPRUS
(no date info)
Unfortunately, the forum is no longer available. It's a shame because there were many wonderful tutorials and artists. I had a lot of fun doing these.






Hearts Scribbles
Tutorial by: no info
(no date info)
I learned to make these from a website that no longer exists now. I think it was called Peach Blush??




© Silent Devotion 2OO4-bey0nd