Your Delightful Source For Pretty Dollies, Girly Glitters & Graphics!

Home

TOU

About Us

Dolls & Graphics

Siggy Makers

Link Us

Show Us ♥

Worthy Clicks
Zodiacs : Western : Sayclub Doll
Please do not redistribute our content, do not alter in any way nor remove our link code. Graphics are by Sayclub and edited by SEyez. Gfills by SEyez.
If you're not sure what Western Zodiac sign you are, hover over the image to view the dates.
For example, if you were born on May 1st, you are a Taurus.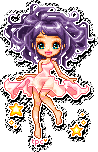 back . home . forward



The Princess Chateau © 2008 & beyond

All content on this website may not be used without proper credit and should not be redistributed.