Your Delightful Source For Pretty Dollies, Girly Glitters & Graphics!

Please do not redistribute our content, do not alter in any way nor remove our link code. You may right-click and save to your own computer or use the provided code to place on your website or profile.









back . home . forward



The Princess Chateau © 2008 & beyond

All content on this website may not be used without proper credit and should not be redistributed.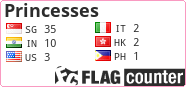 princess(es) online